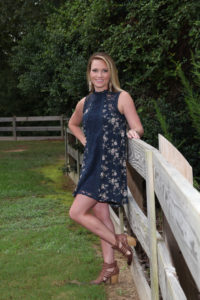 Ashley Baker Taube, age 37 of Hoschton, passed away Thursday, December 20, 2018 surrounded by her friends and family. Ashley had fought fiercely and cou­rageously through a long battle against Neuroendocri­ne Cancer.
Ashley married the love of her life, Dr. Mike Taube, for­merly of Chicago; she was the most devoted and dearest mother of Fischer and Baker; precious daughter of Lee and Dot Baker of Braselton, beloved sister of Rob (Jen) Baker of Canton and Kimberly Baker of Braselton; lo­ving daughter-in-law of Kathy Taube of Atlanta and de­arest sister-in-law of Chris (Amanda) of IN, Matt (Ing­rid) of Atlanta, Andy (Anne) of IN, and Dan Taube of IL.
Ashley attended Trickum Middle School w here even at that young age her spirit and love of sports shined through. She was a cheerleader for the school as well as a gymnast. She belonged to the
Georgia Gymnas­tics Academy and was a GA State Champion gymnast. During the ' 96 Olympics, she was s elected with other gymnasts to perform exhibition routines and help with scores and escorting the teams from each event.
During her years at Parkview High School in Lilburn, she was a Freshman and Senior Homecoming Court re­presentative. She was a Student Council representative, a member of SADD, and she won Miss Congeniality in the Miss Parkview pageant in '99.
During her senior year as a Parkview cheerleader, she was the co-captain of Varsity Football and the Compe­tition cheerleading squad '99. That year at camp Ashley won the "dance off" competition.
Ashley also worked as a Mountain Park Athletic Asso­ciation Cheerleading Coach. She was a member of both the Atlanta Jayhawks Competition Cheerleading Squad and the Atlanta Jayhawks Competition Dance Squad, winning national titles for both in '98-'99. After her gra­duation from Parkview and for several years later she worked as a UCA Cheerleading Camp instructor.
Ashley graduated from Parkview with Academic Ho­nors and Spanish Honors, and she was inducted into the Mu Alpha Theta Math Honor Society.
Ashley fell in love with the University of Alabama the first time she visited and there was no turning back. She found her home in the Pi Beta Phi Sorority where she was on the Executive Committee and also served as the Vice President of Social Advancement. Her Pi Phi sisters remain among her dearest friends.
At Alabama she was a member of Pi Mu Epsilon, dedi­cated to the promotion of mathematics and recognition of scholarly achievement in mathematics. Ashley was inducted into the Order of Omega, a leadership honor society for members of Fraternity and Sorority organi­zations. Order of Omega recognizes juniors and seniors who have exemplified high standards in the areas of scholarship, leadership, involvement within their re­spective organization and within the Fraternity/Soro­rity, campus, and local community. Members are se­lected from the top 3% of students at each institution.
Ashley continued her education, receiving her Master's degree from Walden University and Specialist's degree from Valdosta State University.
Ashley spent 3 years each as an Atlanta Falcons and Georgia Force cheerleader. Most recently, after trying out and falling in love with Bodyflow to strengthen her body, Ashley earned Certification as a Bodyflow in­structor and regularly invited one and all to enjoy the benefits of her classes in Buford.
Ashley and Mike met when they began their careers at Mill Creek High School in 2004. Ashley was an expert math teacher and a phenomenal cheerleading coach. As the competition cheer coach, she guided her teams to win four state championship titles: '09, '10, '11 and re­cently Mill Creek's Coed Competition Cheerleaders in October, 2018. Mill Creek is a community that Ashley loved and poured her heart into.
Ashley was honored as the Georgia Cheerleading Coach of the Year in 2017; and she was presented the 2018 Mill Creek High School, Jim Markham Courage Award, in recognition of her fortitude, determination and ability to confront the uncertain.
Ashley never met a person who did not become her friend almost instantly. Her heart was full of love for everyone she knew; and when she met another friend, her heart grew all the more to include them.
All of Ashley's accomplishments pale in comparison to how she lived as a wife and mother. Her capacity to love grew exponentially as she first joined Mike in marria­ge and then become Mom to Fischer and Baker. Being their Mom was her greatest joy.
To share, please click below: