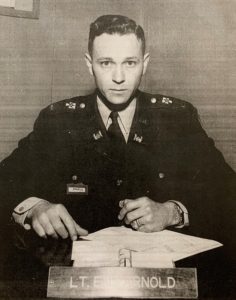 Edward Lee Arnold
Born on November 17, 1929 in San Antonio, Texas, Edward Lee Arnold was the son of Marietta "Mary" Deans and Frank R. Arnold. Ed was born in Texas one month after the Great Depression began, and made his own way through hard work and perseverance to live an accomplished and blessed life.
Knowing he could always do better, he worked as a butcher and joined the ROTC after high school to pay for junior college. After one year of college he was admitted into Texas A&M University, where he graduated with a Bachelor's Degree in Mechanical Engineering. Commissioned as an officer in the US Army, he served for 21 years in the US Army Corps of Engineers, achieving the rank of Lieutenant Colonel before retirement. While in the military, Ed also graduated with a Master of Mechanical Engineering with a concentration in Nuclear Engineering from North Carolina State University.
He married the love of his life, June Schoenly, in 1955 in Orleans, France where he was stationed. Ed and June lived and raised their family in numerous places in the United States, as well as Honduras. Ed also served overseas in South Korea and South Vietnam. His unique training led him to focus on nuclear weapons research, testing and development. He continued in that field after retiring from the military, settling in the Washington DC area to work on several notable projects before retiring to Hilton Head, SC.
Ed was full of energy, loved traveling, and joined June in making every family move an adventure. With a lot of stories, occasional impatience with the world, and great kindness to his family and friends, Ed doted on his grandchildren, enjoyed golf and baseball, and was an avid follower of his beloved Texas Aggies. Ed was also very active for many years at Island Lutheran Church of Hilton Head, SC.
Ed passed away on Veterans Day, November 11, 2019, and he is now at rest with his Heavenly Father. He is survived by June, to whom he was married for 64 years; son Gary Arnold, daughter-in-law Elizabeth Arnold of Norfolk, VA, and grandchildren Holly Arnold and David Arnold; daughter Elizabeth Rose Hubers of Braselton, GA and grandchildren Jessica and Matthew Hubers; and daughter Catherine Uhrig, son-in-law Richard Uhrig of Reston, VA, and grandchildren Richard, Andrew and Michael Uhrig.  A graveside service with full military honors will be held 11:00 AM, Saturday, March 7, 2020 at Six Oaks Cemetery, 175 Greenwood Drive, Hilton Head, SC 29928. In lieu of flowers, please consider making donations to the Alzheimer's Association, Deep Well Project of Hilton Head, or Hilton Head Habitat for Humanity. Arrangements by Lawson Funeral Home, 4532 Hwy 53, Hoschton, GA 30548, www.lawsonfuneralhome.org, 706-654-0966.