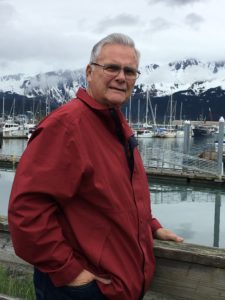 Childress, Kenneth Wayne, age 80, of Statham GA passed away peacefully on July 26, 2019, surrounded by family. He was born on June 7, 1939, and spent his childhood in Decatur where he graduated from Decatur High School.  He worked for Kraft Foods for 38 years specializing in distribution, retiring in 1994. Ken was a hardworking, jovial family man who volunteered for his community.  He selflessly gave his time to family, friends and scouts including serving as Troop 99 Scoutmaster for 8 years. He traveled with his family around the globe, studied history, loved cars and woodworking.  After retiring he travelled extensively from Normandy to Tokyo and all points in between.
He is survived by his loving wife of 55 years, Pat Childress; daughter Kim Childress; son Tim Childress and daughter-in-law Kerry of Fort Collins, CO; and grandchildren Mackenzie, Cooper, and Grant Childress. Visitation will be held from 2-4PM on Saturday, August 10 at Wages & Sons in Lawrenceville, GA. He will be sorely missed. In lieu of flowers, donations can be made in memory of Ken Childress to your local Humane Society.
Funeral arrangements made by Lawson Funeral Home, 4532 Hwy 53, Hoschton, GA 30548, www.lawsonfuneralhome.org, 706-654-0966.