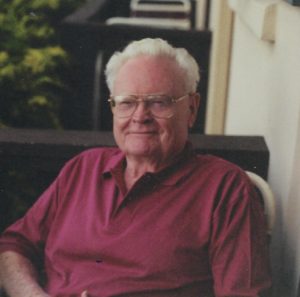 Richard Aubrey "Dick" McKinstry, Jr., age 92 of Hoschton, GA, went to be with the Lord on Saturday morning, January 12, 2019, shortly after midnight. He had suffered a stroke two days after Thanksgiving, 2018, and quietly passed away at home with a smile on his face, surrounded by his family who had lovingly cared for him during his last years.
Dick was born in Stuttgart, Arkansas, on June 30, 1926. Shortly after, his family moved to Wilmar, AR, where he grew up. He served in the US Navy during World War II, as a Motor Machinist's Mate, 3rd Class on LSM 388. Notably he was on the island of Okinawa preparing for the invasion of Japan when the war ended, mercifully for him and for his two children, seven grandchildren, fourteen great-grandchildren, and three great-great-grandchildren.
Dick attended Arkansas A&M, Tulane University, and LeTourneau Tech, graduating in 1950. He married Mary Elizabeth Pollick, of Longview, TX, on September 1, 1950 and they moved to Stuttgart, AR where he began work as an industrial engineer. His successful career took Dick and Mary to Little Rock, AR; Conway, AR; Bentonville, AR; Hannibal, MO; Rogers, AR; Rio Piedras, Puerto Rico; and Augusta, GA. They retired to Homer, GA, in 1985 and lived there until Mary passed away in January, 2001, six months after their 50th anniversary. On February 16, 2002 he married Lois Reeve of Marietta, GA, and they lived in Acworth, GA until Lois passed away on May 16, 2016.
A disciplined and hard-working man, even in retirement, Dick set an extraordinarily high standard, both in perseverance as well as loving service to others. After retiring he built a huge wood shop and spent his days designing and making a variety of products (when he wasn't cultivating tomatoes in his greenhouse) and spent most weekends in his Ram Wood Products booth at the Pendergrass flea market. It simply was not in him to sit around.
A life-long Presbyterian, Dick was a founding member of Grace Presbyterian Church in Little Rock, AR, where he also served as a deacon and church treasurer. Later he served on the board of deacons at First Presbyterian in Rogers. Dick was a man of quiet, but genuine faith, and his heart for service was especially evident in the caretaking role he played for both Mary and Lois in their extended illnesses.
Dick was pre-deceased by his beloved wives, Mary Elizabeth Pollick McKinstry and Lois Reeve McKinstry; his parents, R.A. McKinstry, Sr. and Mattie Lee Haigh McKinstry of Wilmar; as well as one sister, Janie Lou McKinstry, and one brother, Victor Haigh McKinstry.
He is survived by his brother Joe Lee McKinstry of Little Rock, AR; his son, Richard "Skip" McKinstry of Oklahoma City, OK; and his daughter, Nikki Lee McKinstry Robinson and her husband Montie Ray Robinson of Hoschton.
Funeral services with military honors will be held 5:00 pm Sunday, January 13, 2019 at Lawson Funeral Home Chapel.  Montie Ray Robinson, Jr. will be officiating.  Interment cremation.  The family will receive friends 4:00 pm to 6:00 pm Sunday, January 13, 2019 at the funeral home.  Gifts in memory of R.A. McKinstry, Jr. may be made to the Bright Focus Foundation www.brightfocus.org), which does research into Alzheimer's disease, macular degeneration, and glaucoma. Funeral arrangements by Lawson Funeral Home, 4532 Hwy 53, Hoschton, GA, 30548, www.lawsonfuneralhome.org, 706-654-0966.