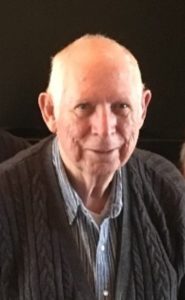 Glenn Lawrence Brown, age 84, of Braselton passed away on Sunday, February 24, 2019 at 11:47 a.m. while residing at Park Place Nursing Facility in Monroe, Georgia.  Glenn was born on May 1, 1934, in Arnett, West Virginia to the late Daniel and Elsie Brown.  He was the 7th of 12 children; living – Willis, Shelby, Ethyl, and James. Predeceased by Virginia, Flora, David, Evelyn, Nora, Ambrose, and Charlie. He retired as an inspector from Ford Motor Company in Wixom, Michigan in July of 1996.
 He was a Board Member/Deacon of Community Bible Church of Brighton, Michigan until 2012 when he moved to Georgia and became a member at First Baptist of Carl.  He enjoyed volunteering for Missions Abroad Placement Service (MAPS) building churches and helping with various Christian outreach programs.
He is survived by his wife of 57 years Alma Brown; daughter Wendy Kay David; sons Glenn Scott and  wife Dania , Daniel Ray and wife Pam;  grandchildren Joy Alina, Jason Daniel, Matthew Luke, Alex Christopher, Rachel Nicole, and Kendall Christine.  He was blessed with a great grandson, Cooper Kenneth that he was unable to meet.  He was predeceased by his son Phillip James.
Memorial services will be held 1:00 pm Saturday, April 13, 2019 at First Baptist Church of Carl, 1588 Carl Bethlehem Road, Auburn, GA 30011.  In lieu of flowers the family respectfully asks that donations be made to Fisher Center for Alzheimer's Research Foundation. www.alzinfo.org.  Arrangements by Lawson Funeral Home, 4532 Hwy 53, Hoschton, GA, 30548, www.lawsonfuneralhome.org, 706-654-0966.
To share, please click below: