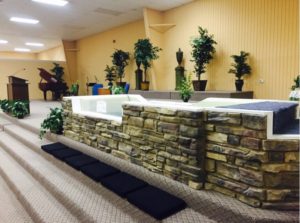 Our highly trained licensed staff will assist you in selecting the service that best suites your needs.  We will personalize the service to best reflect the life of the deceased, as well as the wishes of the survivors.
We Offer:
Procuring death certificate
Coordinating funeral times and details with clergy
Composing obituaries
Offering a vast selection of caskets, urns, and vaults
Floral Arrangements
Celebration of Life DVD
Assistance in filing for benefits (Social Security, Insurance claims, Veteran benefits, etc.)
State to state transport of body
Funerals:
Complete Funeral Service
Traditionally, the funeral will be a complete funeral service.  This includes a family or public viewing of the deceased. Following this with a service, typically in the church or funeral home.  This would be followed by the earth or above ground burial of the casketed remains.
Graveside Service
The graveside service can be another selection.  This many times would follow a time of visitation at the funeral home.  The casketed remains would then be transferred to the cemetery where a graveside ceremony could take place followed by the burial.
Immediate Cremation Service
The immediate cremation service can be arranged as an immediate disposition of the body, but is most times followed by a memorial service at the church, funeral home or other location.  A Memorial Service is one where the body is not present.
Complete Cremation Service
The complete cremation service is another type of selected offering.  This service will be just like a Complete Funeral Service except cremation will follow instead of the casket burial.  This can be accommodated by the use of a cremation casket (casket that is designed to be cremated) or even a rental casket may be used.  Following the viewing, service or ceremony, and eventual cremation, the cremated remains can be buried, properly scattered, r returned to the family for safe keeping.
Lawson Funeral Home is available 24 hours a day, 365 days a year.  Your call will be answered by Lawson Funeral home and not an answering service.  We are here to assist you with the details and offer guidance.