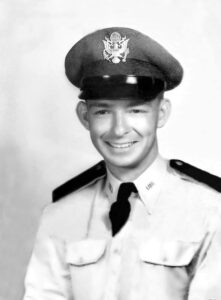 Dr. Robert Franklin ("Frank") Horner, age 96, died of natural causes in his home in Gainesville, GA, on May 26, 2023.  Born on January 19, 1927, in Chattanooga, TN, Dr. Horner graduated from City High School in Chattanooga and served in the United States Army.  He completed his bachelor's degree in 1950 at the University of Chattanooga, where he served as junior and senior class president, as well as president of the Lambda Chi Alpha fraternity chapter, and was elected to Who's Who in American Colleges and Universities.  After college, Dr. Horner was commissioned as First Lieutenant in the United States Air Force, where he was a pilot assigned to a troop carrier squadron in Europe.  Dr. Horner's first son, Daniel, was born during this time.  Following military service, Dr. Horner completed a doctoral degree in Clinical Psychology at the University of Tennessee-Knoxville, and served as staff psychologist and Director of the Outpatient Mental Hygiene Clinic at the Tuscaloosa, AL, Veterans Affairs Medical Center, as well as adjunct professor at the University of Alabama, until his retirement in the early 1990's.  While in training at the Tuscaloosa VAMC, Frank met and married his wife, Marie, and raised daughter, Sherry.  After a clinical internship in Dallas, TX, where their son, Mark was born, Dr. Horner and family settled in the Idlewood subdivision in Tuscaloosa, AL, his beloved home for over 50 years.
Dr. Horner's kindness, steadfast reliability, and generosity deeply touched the lives of his family, his friends, and his veteran patients. His beaming smile, quick wit, and genuine interest in others' wellbeing will be greatly missed, but ever present in our hearts and minds.  He was preceded in death by his parents, J. C. "Jack" and Hazel Horner, three siblings Dwight Horner, Bettye Stone, and Wilma Ruth Chambers, his wife, Marie Gortney Horner, and long-term companion Mary Ann Judice.  Dr. Horner is survived by his daughter, Sherry Beggs, and two sons, Dr. Mark Horner and Daniel Fulghum.  Sherry Beggs' family includes her husband Paul, their two children, Christopher and Heather, 5 grandchildren and 4 great-grandchildren.  Dr. Mark Horner's family includes his wife Elizabeth, their daughter, Chloe, and son, Ethan.  Daniel Fulghum's family includes his wife Jane, daughter Danielle, two sons, Brent and Chad, and 7 grandchildren.
A graveside memorial service will take place at Greenwood Cemetery in Chattanooga, TN, at a date to be determined. Arrangements by Lawson Funeral Home, 4532 Hwy 53, Hoschton, GA, 30548, www.lawsonfuneralhome.org, 706-654-0966.