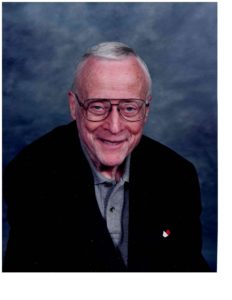 William Edward (Bill)  Shepler, age 91, of Flowery Branch passed away  very peacefully at his home on  Sunday, April 28, 2019.  Mr. Shepler was a United States Army veteran serving his country in WWII.
 He is survived by his wife of 46 years Joan Shepler (nee Datko); daughters Sandra J, ,wife of  the  late  John McClendon of Florida, Wendy A, wife of Ross Jackson of Roswell; son William B., husband of  Kristen of Florida; grandchildren Travis Jackson, Samantha and Melissa Shepler.  He is preceded in death by his parents Joseph B  and Nellie (Green) Shepler and sister Nancy (Shepler) LaDutko.
Also survived by sisters-in-law, Anna Kris and Christine Bodie, wife of John Bodie, both  of Johnstown, PA  and numerous nieces and nephews, especially Olivia, Bodie, Tessa and Amelia.
Bill was in sales and marketing and owned several businesses, including pioneering  the civilian side of the tear gas industry. He was an accomplished public speaker and  appeared on radio and television, always championing conservative and patriotic causes.
Graveside services with military honors will be held 11:30 am Wednesday, May 8, 2019 at Georgia National Cemetery in Canton, GA.  Rev. Ron Poch will be officiating. In lieu of flowers contributions may be made to Compassionate Care Hospice (donations payable to Amedisys Foundation), 2340 Prince Ave., Ste. A, Athens, GA, 30606.​ Funeral arrangements by Lawson Funeral Home, 4532 Hwy 53, Hoschton, GA, 30548, www.lawsonfuneralhome.org, 706-654-0966.