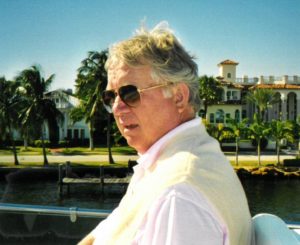 John McConnell Purcell, age 78, husband of Rusty Purcell of 6509 Autumn Crest Lane, Hoschton, GA passed away Wednesday, March 4, 2020.  Born February 16, 1942 on Long Island, NY, John grew up in New Orleans, LA and Toledo, OH where he graduated from University of Toledo before beginning a broadcasting career in radio and television.
John began his career at WTOL-TV in Toledo, OH and remained in broadcasting until his retirement in 2006.  After leaving Toledo, An avid golfer since his youth in New Orleans and Toledo, John continued to be an active golfer until shoulder and back surgeries made it a spectator sport.  He played many of the PGA courses around the country, as well as Pro-Am tournaments and sponsorships of local PGA events.
In addition to his wife, survivors include sons Hayes; Lee (Ashley); daughter Wendy Kosa (Todd); sister Sharyn  Fondren; grandchildren Jake, London John, Kennedy, Kate, Cooper, and Reese; friend Carol Purcell.
John is preceded in death by his parents Walter and Ruth Purcell; brother Phillip; sister Patricia and daughter Kimberlee Purcell.  No services will be held at this time.  Arrangements by Lawson Funeral Home, 4532 Hwy 53, Hoschton, GA 30548, www.lawsonfuneralhome.org. 706-654-0966.